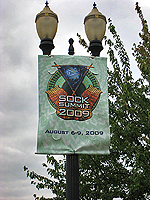 The Sock Summit founders described themselves as "seven lunatic women with a thing for socks and a very big plan," and they didn't use the word "big" lightly. By the time the Sock Summit took place in Portland, Oregon, August 6-9, it had gathered a magnificent momentum the likes of which most event organizers could only dream.
The final Sock Summit schedule included a packed program of classes (with some 1,500 registered students), a marketplace of more than 150 vendors, the world's first museum of handknitted socks, a book signing with 21 authors, a moderated public discussion among 9 sock-knitting luminaries, a chance to break the Guinness World Record for the most number of people knitting simultaneously and, yes, a real live sock hop.
All this was conceived and coordinated by a team of 7 mere mortals, headed by Tina Newtonand Stephanie Pearl-McPhee.
How Big is Big?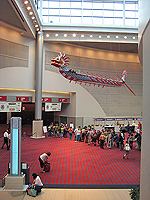 The scale of this event ended up being far larger than even the organizers had anticipated. On the day registration opened, the Sock Summit Web server clocked 30,000 simultaneous visitors, which promptly caused the server to croak, classes to appear filled, and many folks to walk away disappointed.
Those who did succeed at registering got to choose from a staggering number of classes sorted into day-long, half-day, and hour-long formats and running constantly on every possible subject, from podcasting and publishing to cast-ons and bind-offs. I was there teaching people about what makes a happy sock yarn, and I was joined by some of the most intelligent and creative knitting minds I've ever met.
Among the 40 teachers who said "yes" were Cat Bordhi, Nancy Bush, Anna Zilboorg, Meg Swansen, Judith MacKenzie-McCuin, Amy Detjen, Lucy Neatby, Priscilla Gibson-Roberts, Deb Robson, Cookie A., Anne Hanson, Sivia Harding, Melissa Morgan-Oakes, Abby Franquemont, Charlene Schurch, Stephen Houghton, Judy Becker, J.C. Briar, Janel Laidman, Amy Singer, Denny McMillan, Deb Barnhill, and yes, you read it right, Barbara Walker. Even Stephanie Pearl-McPhee and Tina Newton found time to teach classes.
A Mighty Market
If the educational offerings were the spiritual heart of the event, the market was its material heart. Walking down the aisles often felt like strolling through a three-dimensional Etsy, populated with row upon row of the extraordinarily colorful and tactile.
This being a sock-centric event, sock yarn was by far the most represented product at the market. Not just any sock yarn, but hand-dyed sock yarn—in a very big way.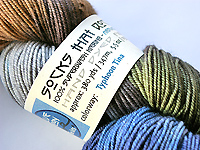 The hand-dyed influence may be an indirect result of the fact that Tina Newton, show co-founder, is the creative force behind Blue Moon Fiber Arts, whose intensely dyed Socks That Rock superwash Merino sock yarn has a permanent place in sock-knitting history. As could be expected, the Blue Moon Fiber Arts booth was perpetually swamped. I brought home a skein of the colorway "Typhoon Tina" in honor of the show's co-founder.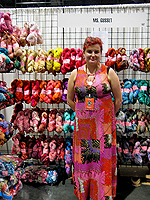 Superwash Merino was the predominant fiber at the show. I met Kylie—better known as Ms. Gusset—who brought a whole load of her own custom-spun, intensely colored superwash Merino/nylon sock yarn from Australia.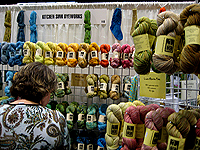 Mercedes was also at the show with her Kitchen Sink Dyeworks yarns, whose mouth-puckering colors were even more tempting in person. I fell hard.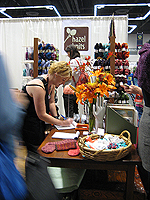 Another Etsy favorite, Hazel Knits, had a booth full of bright, flickering colors, almost all of which were applied to a base of superwash Merino fiber.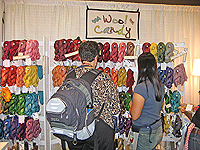 Among my new discoveries was Wool Candy, which offered a small yet enduring selection of yarns whose colors bloomed on the skein.


This particular yarn came home in my carry-on bag, not only because of its colors but also because of its fiber composition.
Starting with Wool Candy, I began to notice another fiber creep into the Merino sock yarn line-up: Bluefaced Leicester. Far better suited to socks than Merino, wool from the Bluefaced Leicester sheep offers much greater strength and durability as well as a gentle silky luster. The more I looked, the more Bluefaced Leicester (or BFL, as it's commonly called) I found at the market.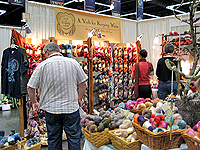 In terms of fundamental dye techniques, naturally dyed yarns were also well represented at the show. San Francisco-based A Verb for Keeping Warm pulled people right into the marketplace with its soft, nuanced colors and enticing fibers in both yarn and unspun form.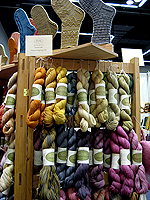 I also kept coming back to the Tactile booth, lured by its abundance of tidy skeins and calmed by the rich, nuanced colorways—all of which were also naturally dyed.




Portland's own Abundant Yarn and Dyeworks also had a major presence at the show. (I was so overwhelmed by the scope of their naturally dyed offerings that I completely forgot to take a picture. But you'll hear more about them in Knitter's Review.)
I spotted another trend: the superwash Merino/nylon/cashmere sock yarn blend. It's a common base yarn for hand-dyers, usually in the proportion of 80% Merino, 10% nylon, and 10% cashmere. Most of the above-mentioned vendors had some available.
But attendees still lined up each morning and literally sprinted to the Sanguine Gryphon booth to get their hands on a skein of Bugga, which has 20% cashmere. A student brought a skein into my yarn class, and we concluded that the major reason for Bugga's popularity may have more to do with the exquisitely shifting, moody hand-dyed colors than with the actual fiber content. But who knows?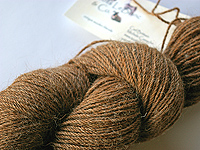 Meanwhile, I finally came face to face with one of my all-time favorite boutique yarn companies, Toots LeBlanc. Their angora yarns are processed and spun so perfectly that their bloom is positively angelic, yet the fibers never, ever shed. They also had a beautifully balanced three-ply sock yarn containing Jacob wool, alpaca, and mohair, the latter of which is an ideal well-wearing natural alternative to nylon.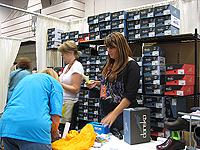 The popular clog company Dansko made a smart decision to have a booth. A steady flow of eager sock knitters stepped in all weekend long.


As a thoughtful touch, event organizers had made a winding station available so that knitters could pop open their new skeins and prepare the yarn for immediate casting-on. The winders and swifts were in constant use.
Making a Museum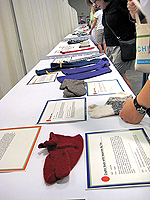 Meanwhile, in a quiet aisle separated from the marketplace by just a single cloth curtain, sock history was being made in the Sock Museum. This painstakingly curated exhibit of historically significant sock replicas spanned from the "dawn of time" to today.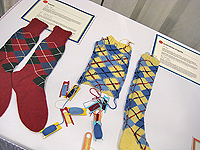 There were World War II Red Cross socks and argyle socks, socks knit by Barbara Walker and Elizabeth Zimmermann, Medieval socks and Anasazi socks, Monkey and Rivendell and Pomatomus socks and a sweet pair of Jane Cochran's Jane's Hedgerow Socks. Best of all, we were encouraged to take pictures and touch all the samples to our heart's content. It was an extraordinary undertaking, and I encourage you to visit the Sock Museum online to see a little bit of sock history for yourself.
Making More History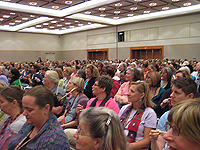 On Friday at lunchtime, everybody scurried out of their classrooms early so that they'd be able to join in another history-making event: an attempt to break the Guinness World Record for "The Most Number of People Knitting Simultaneously."
We dutifully gathered our single-pointed straight needles (the Guinness folks deemed DPNs and circulars verboten) and knitted away for 15 minutes. We were so eager to follow the rules that even Cat Bordhi, perhaps for the first time in her adult life, set aside her circulars for the occasion. (OregonLive.com posted a lovely video documentary of the event here.)
Deep Thoughts and Chocolate Cake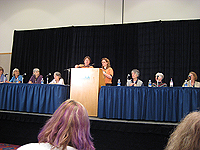 On Sunday afternoon, the Sock Summit culminated in a panel discussion with Cat Bordhi, Nancy Bush, Priscilla Gibson-Roberts, Judith MacKenzie-McCuin, Lucy Neatby, Deborah Robson, Meg Swansen, Barbara Walker, and Anna Zilboorg. With Stephanie and Tina moderating, the panel engaged in a passionate and entertaining discussion about how knitting had changed over the last 99 years and where they felt it was headed. (You'll see why they chose the number 99 in a minute.)
I jotted down a few memorable responses:
When asked what kinds of obstacles she had faced as a woman running a knitting-related business, Meg Swansen could only reply, "I don't know, I've never been a man." Later, when Stephanie asked her what it was like growing up as Elizabeth Zimmermann's daughter, she smiled again and replied, "I don't know, I've never been anyone's son."
Meanwhile Judith MacKenzie-McCuin confessed to a wool stash of more than 6,000 pounds, advising us all to have a similar pantry of yarn and fiber at our disposal, "just in case."
Deb Robson advised aspiring self-publishers, "You don't have to know how to do everything, you just have to know what to do next."
Priscilla Gibson-Roberts put in a passionate plea, "Whoever wrote that article about how you can spin with a slice of potato and a pencil? She needs her neck wrung!"
When asked how she managed to be so prolific, Barbara Walker said she needed only four or five hours of sleep each night. She also said that her TV set broke once and she didn't get around to calling the repair man for five years. "I got a lot done," she smiled. Then Stephanie turned back to the audience and said, "To recap, don't sleep and ditch your TV."
Later someone asked the group if knitting made them happy. "I think knitting makes you satisfied," noted Barbara Walker carefully. "Happy is kind of manic." At which point Nancy Bush gently interrupted, "I don't know, I kind of think manic works…"
Knitting has clearly played a central role in all of these women's lives. For Cat Bordhi, knitting isn't about the product, "it's about what rises through knitting as we do it." Lucy Neatby called knitting "an antidote to the way we live," joking that it was the only thing in which she could see progress when she was raising her children. Anna Zilboorg agreed. "So much of ordinary life is so…ordinary, tedious, and demanding," she said. "When you have knitting, it really carries you through." Then, after a brief pause, "If you're a knitter, that is."
Barbara Walker had a more poetic viewpoint. "Just as the bird's wing evolved to fly," she told us, "the human hand evolved to manipulate. An idle hand is an unhappy hand."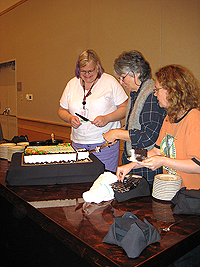 The Luminary Panel came to a happy close when we all sang "Happy Birthday" to Elizabeth Zimmermann, whose 99th birthday just happened to fall on that very day. A large chocolate cake was rolled into the room and Meg Swansen had the honor of cutting her mother's birthday cake, while Amy Detjen and Stephanie helped distribute it among the well-wishers.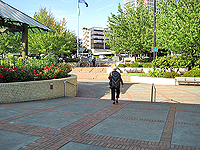 And then, the magic spell was broken as the convention center doors reopened and we all went back into the wild—Barbara Walker leading the way.